Training History
Ozark Rescue Suppliers has been involved in the field of search and rescue (SAR) training and response, both in incident management and as field responder, since 1987. Besides the company owners lengthy career in law enforcement and associated responsibilities with other emergency service disciplines as a public safety officer, he assisted in the development of and managed two public response SAR programs during that period as well. In 1993 ORS teamed-up with Rescue 3 International (RQ3) to offer the latest curriculum in swift water and technical rope rescue training and seminars. Since that time ORS has instructed over 4,000 course participants in those disciplines, as well as search and search management training programs. Over those eighteen years training courses and seminars have been instructed in Arkansas, Oklahoma, Kansas, Missouri, Louisiana, Tennessee, Mississippi, Alabama, Georgia, South Carolina, Florida, Vermont, Puerto Rico and Wales. The relationship with Rescue 3 International expanded at the beginning of 2012 when we forged a contract with RQ3 forming Rescue 3 - Central States Region (RQ3-CS) and the owner of ORS becoming the agent for RQ3-CS. This expanded relationship is a win-win for both companies as it allows for better quality control of course programs for RQ3 Corporate and the ability to expand the training market within the region. Today, as has been the case for several years, the training programs offered through ORS and RQ3 all meet the standards established within National Fire Protection Association (NFPA) 1670 and 1006 documents.
Right Training!
Right Equipment!! Right Response!!!
Training Program
To get the feel for the training program all one has to do is speak with former participants. The common testimonial one will receive is that ORS/RQ3-CS offers one of the most intensive and challenging training programs I have been exposed to and experienced in my entire professional emergency service career. Our partner, RQ3, was one of the first, if not the first, to convert the majority of their training programs to meet the industry parameters established within NFPA 1670 – Operations and Training for Technical Search and Rescue Incidents and NFPA 1006 – Technical Rescuer Professional Qualifications standards. As a matter of fact many of the general requirements for the Water Search and Rescue section and the specific awareness, operations and technician requirements under the Surface/Swift Water have been incorporated within the standard as result of the history (since 1979) and development of the RQ3 training programs.
Obviously this is a credit well deserved and existed long before the NFPA technical rescuer standards process. We at ORS/RQ3-CS only intend to expand that original vision and in the end hopefully to assist in improving the safety of our colleagues - our fellow rescuers. Let us help you accomplish your training goals as we specialize in awareness, operations and technician level training in swift water and rope rescue...see the attached RQ3/RQ3-CS link: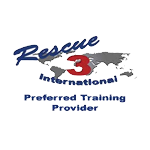 http://www.rescue3international.com/R3home.php
Our Trained Clients
Arkansas
 Alpena Fire Department

Arkansas State Parks

Benton County Search and Rescue

Blytheville Fire Department

Conway Fire Department

Elkins Fire Department

Fayetteville Fire Department

Fulton County Hospital

Garland County Sheriffs Department

Grant County Rescue

Goshen Fire Department

Grannis Police Department

Highfill Fire Department

Hot Springs Fire Department

Jonesboro Fire Department

Little Rock Fire Department

Malvern Police Department

Marion County Emergency Rescue

Morrow Fire Department

Omaha Fire Department

Polk County Rescue

Prairie Grove Fire Department

Pulaski County Sheriffs Office

Round Mountain Fire Department

Salem Police Department

Sebastian County SAR

Sherwood Fire Department

United States Forest Service

Valley Springs Fire Department

West Fork Fire Department

 Arkansas Game & Fish Commission

Beaver Fire Department

Berryville Fire Department

Carroll County SORT

Crawford County Search and Rescue

Farmington Fire Department

Garland County Emergency Dive Team

Gentry Fire Department

Greenwood Fire Department

Harrison Fire Department

Holiday Island Fire Department

Hot Springs County DEM

Lead Hill Fire Department

Malvern Fire Department

Mammoth Springs EMS

Maumelle Fire Department

North Arkansas Regional Medical Center - EMS

Ouachita Fire Department

Pine Bluff Arsenal Fire and Rescue

Salem Fire Department

Searcy Fire Department

Shady Grove Fire Department

Springdale Fire Department

Sturkie Volunteer Fire Department

Wickes Fire Department

Washington County TRT - West & East

Weddington Fire Department
Alabama
Alabama Task Force 1

Birmingham Fire Department

Dothan Fire Department

Cullman Fire Rescue

Enterprise Rescue Squad

Lincoln Fire and Rescue

Ricetown Fire Department

United States Coast Guard - Rescue Swimmers

Alabama Fire College

Albertville Fire Department

Catoosa Fire Department

Hoover Fire Department

Decatur Fire Department

Mobile Fire Department

Philcampbell Rescue Squad

Tarrant Fire Department
Connecticut
Florida
 Bonita Springs Fire Department

Okaloosa County EMS

Okaloosa County Sheriffs Department

Volusia County Fire Department

 Ocean City Fire Department

Okaloosa Joint Water Rescue Team

United States Air Force - PJ's
Georgia
Atlanta Fire Department

Cobb County Fire

Covington Fire Department

Dalton Fire Department

Forsyth Fire Department

Gwinnet County Fire and Rescue

Houston County Emergency Management

Jasper Fire Department

Martinez Fire Department

Milledgeville Fire Department

Tallulah Gorge State Park

Whitfield County Fire Department

 Caddo Valley Fire Department

Clayton County Fire Department

Dekalb County Fire Department

Georgia Civil Air Patrol

Henry County Fire Department

Helen Fire and Rescue

Meldrim Volunteer Fire Department

Murray County Fire Department

National Park Service - Chattahoochee River

Thomaston Fire Department

United States Coast Guard - Rescue Swimmers

United States Air Force - PJ's

West Point Fire Department
Illinois
| | |
| --- | --- |
| Park Ridge Fire Department  |   |
Kansas
Bonner Springs Fire Department

Consolidated Fire District #2

Emporia Fire Department

Leawood Fire Department

Leavenworth County Fire District #1

Neodesha Fire/EMS Department

Parsons Fire Department

Shawnee Fire Department

 Chanute Fire Department

Coffey County Fire Department

Johnson County Fire District #2

Independence EMS

Lenexa Fire Department

Linn County Fire Department

Northwest Consolidated Fire District

Sedgewick County Fire District

Wellington Fire/EMS
Louisana
Mississippi
Missouri
Creve Coeur Fire Department

Eureka Springs/Police Department

Henry County Fire Department

Little Dixie Fire Department

St. Louis Fire Department

Springfield Fire Department

West Taney County Fire Department

Eagle Rock Fire District

Florissant Fire Department

Jefferson City Fire Department

Rock Community Fire Department

St. Peters Fire Department

Urich Fire and Rescue

Wright City Fire Protection District
New Hampshire
Oklahoma
Broken Arrow Fire Department

Mid-West City Fire Department

Oaks Volunteer Fire Department

Southside Fire Department

Will Rogers Airport Authority

Cushing Fire Department

Haskell County Fire & Rescue 

Illinois River Fire Department

Oklahoma Special Rescue Team

Norman Fire Department

Spencer Fire Department

 
South Carolina
Arcadia Fire Department 

Cola Fire Department

Richmond County EMS

Clemson University Fire Department 

Columbia Fire Department

Merriwether Fire Department

Simpsonville Fire Department
Tennessee
Gatlinburg Fire Department

Pigeon Forge Fire Department

Sevier County Sheriffs Department

Whitfield County Sheriffs Office 

 Alcoa Fire Department

Sevier County EMA

Sevier County Rescue Squad
Texas
Anna Fire Department

Mt. Pleasant Fire Department

Overton Volunteer Fire Department

United States Border Patrol

Life Net Aeromedical

Mineola Fire Department

Tyler Fire Department 

Waskom Fire/EMS
Vermont
 Alburg Fire Department

Colchester Police Department

St. Johnsbury Fire Department

Vermont State Police

Burlington Fire Department

Essex Junction Fire Department

St. Mikes Fire Department
Puerto Rico
Bayamon Fire Department

Carolina Dive Rescue

Puerto Rico Fire Department - Special Operations

Puerto Rico Police Department - Rescue Unit

State Police Rescue Unit

 Canovanas Police Department

Puerto Rico Civil Defense

Puerto Rico Police Department - Air Operations

San German Civil Defense

WEMT Cave Rescue
Course Comments 
Swiftwater Rescue Technician 1(SRT1) - 3 Day Course (NFPA Compliant)
Swiftwater Rescue Technician Advanced(SRTA) - 3 Day/2 Night Drill Course (NFPA Compliant)
Technical Rope Rescue Technician Level(TRR-TL) - 5 Day Course (NFPA Compliant)
SRTA.....August, 2011
"He always finds a way to motivate his students to learn more and stay active in the field."
"I really appreciated how he worked with me regarding my problem with the swim fins and showed me how to correct the issues I was having."
SRT1.....August, 2011
"This class helped give me a higher level of confidence for the next time I go out to the field."
"I had a good time, learned a lot, and want to take the Advanced Course when it becomes available to me."
SRT1.....July, 2011
"He was hard on you at times, but did a great job on making you work harder."
"Gave several real life situations that he had been involved in - seemed to truly love the job."
SRT1.....July, 2011
"This is my second course with him - they are professional, well delivered and interesting."
"No student was allowed to begin an operation or exercise until he made sure all safety issues were covered and understood."
SRTA.....June, 2011
"Always good to see instructor do the same things being asked of the students."
"I was challenged to push myself and as a result I realized I was capable of more than I thought I was. I am thankful to him for that."
SRT1.....June, 2011
"I was glad to see the instructors were honest about individuals skill level. Also liked the fact that the instructors pushed me to be better and to expand my comfort zone."
"Instructor really showed both knowledge and skill in our flooded water conditions, which made the entire class feel at ease with the water training site."
TRR-TL.....May, 2011
"Excellent job at controlling risk to students."
"I almost spent more time trying to learn from his teaching (delivery style) abilities than the rope part."
TRR-TL.....April, 2011
"He did an excellent job of keeping the course moving and engaging us in all aspects. At no time did I feel my attention wasn't being engaged in the material."
"I had no rope experience prior to the class. I now feel extremely comfortable with the equipment. I feel I've got a good foundation and knowledge about rope rescue skills and operations and my ability to perform them."
TRR-TL.....March, 2011
"Instructor

truly

cares about each students learning."
"He often gave examples of how certain evolutions could play out in our jurisdictions."
SRTA.....June, 2010
"It was beneficial to be put in a lead role even though I did not choose it."
"He has the ability to teach in a way that grabs your attention."
SRT1.....June, 2010
"He pushed me to learn even when I was ready to stop."
"He made sure everyone did every evolution until they had it down."
SRT1.....September, 2009
"My second time and I learned something new."
"Instructor is in very good shape - very fit."
SRT1.....August, 2009
"His competence level is clearly superior to most."
"Even though I personally struggled with some objectives, he enouraged me and would not let me give up."
TRR-TL.....July, 2009
"Probably the most interesting class I have taken in the 16 years I have been in the fire service."
"Instructor obviously knows what he is teaching and is a 'been there' person, not a glorified fire instructor with a couple classes under his belt. His knowledge and personality are certainly capable of teaching this course to anyone. Questions were answered throughly and time was taken to show answers, not just tell answers. Students were allowed to take responsibility for setting-up and rigging without someone breathing down your neck - but around for a safe eye at all times. A great expereince for all involved."
SRTA.....June, 2009
"I became very tired at times and the instructor would not let me give up and kept me going."
SRT1.....June, 2009
"He had more knowledge than the book."
"No other agency in the State can give us this type of training at such a high level."
TRR-TL.....April, 2009
"He has a good personality and knew how to have fun, but still kept everything serious so nobody would get hurt."
"He was very competent on the subject and made it very easy to get on rope."
TRR-TL.....March, 2009
"This was a very professional course and he is an excellent instructor. I can't wait to get back to the station to practice rope skills."
"Instructor is knowledgeable and competent, is on task during practical exercises and seems to be well informed on the latest techniques and innovation."
Training Staff